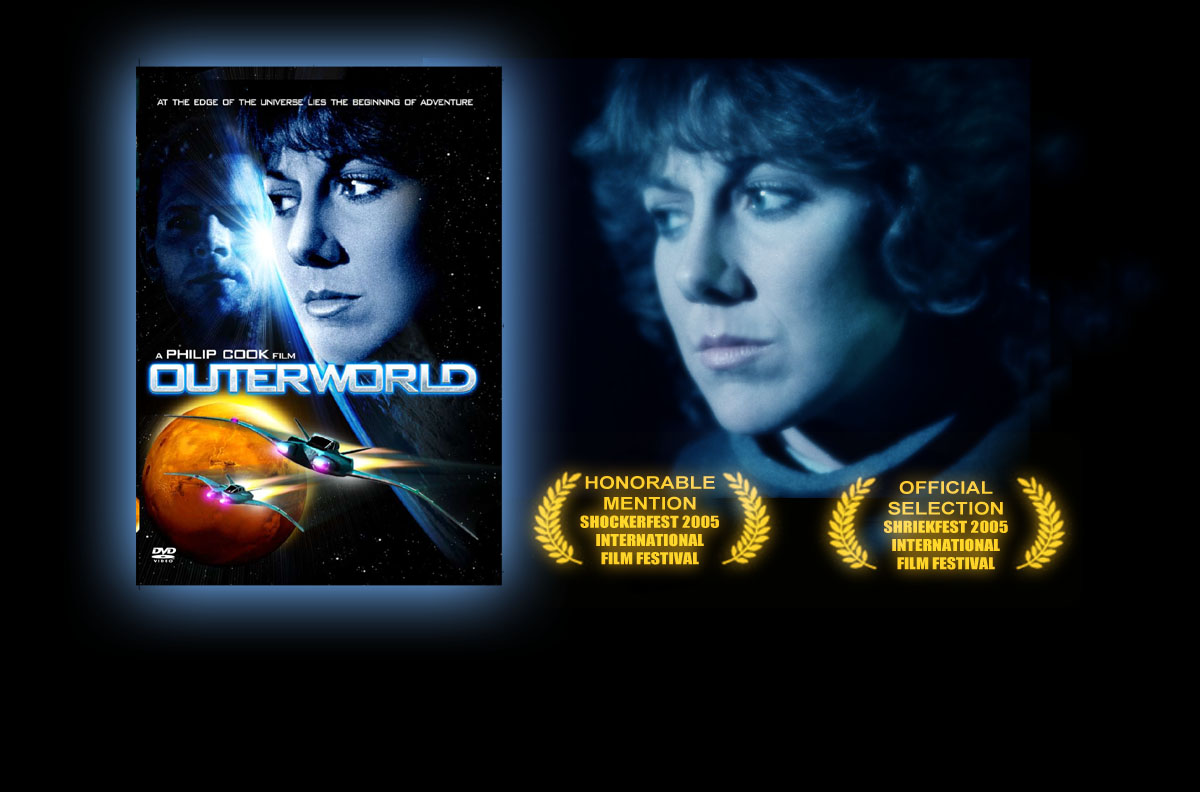 OUTWORLD DVD
$35.00 Includes Shipping & Handling
SPECIAL FEATURES:
STAR QUEST/BEYOND THE RISING MOON
The Full-Length Original Version
The Making of OUTERWORLD
Bloopers & Blunders of OUTERWORLD
Deleted Scenes - Still Gallery - Trailer
All are factory sealed!
Contact Philip Cook at:
pixelpusher2001@yahoo.com
for payment options.
Allow approximately one week for delivery.
OUTERWORLD Trailer
A rare gem, the world-building independent 80's science fiction film, Outerworld is much more than the sum of its parts. A must for fans of scale-built models.
TricksWithBricks.com -- Julian Blake & Colin Marshal
Writer/director/cinematographer/editor/special effects designer Philip Cook is known for throwing himself into his movies. This is more than just another indie science fiction flick, it contains great action and thrills, good characters, a lot of heart, and a wealth of imagination. The effects work is simply stunning and really helps augment the world of intrigue, greed, and hope found in the story. The backdrops are especially dazzling, including the detailed miniatures, though Cook never gets overindulgent and concentrates on them for too long. In fact, one of the most rewarding parts of this production is that the characters always come first, despite the inventive effects and CGI work. Maybe Hollywood can't figure that equation out but Cook seems to do it with every film that he makes. He makes movies about people. True, his characters are often engaged in incredible circumstances, but that doesn't negate the fact that the front burner issues in the stories are Cook's interesting mediations about humanity.
CultCuts Films -- Craig Hamman
This imaginative outer-space tale traverses the galaxy, offering three different planetary environments, aerial dogfights, and a climactic duel with atomic warheads…provides a number of thrills, and neither the filmmakers nor viewers can say they didn't get their money's worth.
TV Guide.com
Philip Cook, an industrial filmmaker in the Washington area has turned out three live-action science-fiction gems [OUTERWORLD, INVADER & DESPISER] that contain entire fantasy universes worthy of C.S. Lewis….
Joe Bob Briggs -- United Press International
I was so often left in awe of Cook's ambitious vision….In every frame there's something new to blow your mind. If I thought [DESPISER] showed gusto, then it's nothing compared to OUTERWORLD.
b-independent.com -- on-line cult-entertainment
Outerworld is good fun and you can't really ask more than that. The leads are likeable, the plot is internally consistent and there are some interesting quirks that make it stand out from the morass of the 1980s science fiction boom. Most importantly, Cook's reworking of the film nearly 20 years later works to make it better, unlike a certain trilogy of big budget 'special editions' which seemed to just have new effects inserted at random irrespective of whether they added anything or not.
MJSimpson_co_uk -- Cult Movies & The People Who Make Them
What OUTERWORLD* lacks in budget it makes up for in imagination, and many sci-fi buffs will appreciate that. OUTERWORLD* does what all good science fiction does, that is, piques the imagination of the viewer, and while it's no 2001: A SPACE ODYSSEY, there are some eye-catching special effects as well.
Video Business Magazine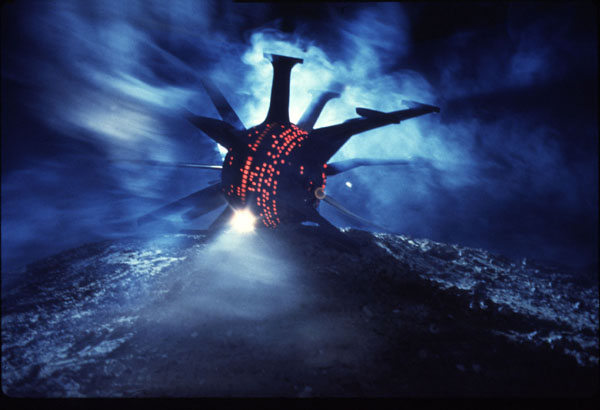 OUTERWORLD
About the Production
The year is 2074. Corporations rival nation states for power. A beautiful superbeing, Pentan (Tracy Davis) is genetically engineered by Kuriyama Enterprises as a corporate assassin and covert agent. She is assigned to intercept information on the find of the century: the location of an abandoned alien spacecraft. The secrets contained by a similar alien ship discovered years earlier changed the world and made its finders wealthy beyond their dreams. Pentan out-wits those who created and enslaved her and steals their information. With the aid of Harold Brickman (Hans Bachman), a freelance space jockey, they flee to Inisfree to seek the help of scientist Robert Thorton (Rick Foucheaux). He is the only man who can disarm the nanite-bomb implanted in Pentan's head. Pursued by Kuryama's massive star cruiser Promethian with its deadly fighter craft, Pentan and Brickman narrowly evade capture and continue their flight to Elysium, site of the abandoned spacecraft. Along the way, they begin to form a bond, stirring emotions that Pentan was trained to emulate – not experience. In a tense star fighter battle above the planet Elysium, Pentan duels her creators for the fate of her friend, her freedom and new found alien derelict.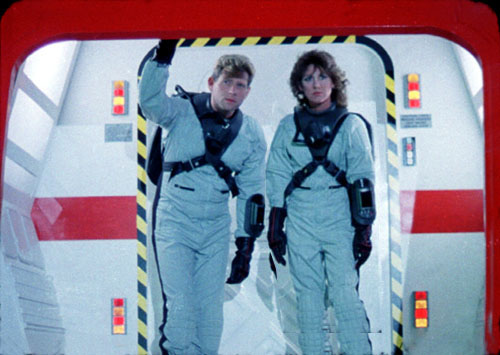 After a successful debut at the Cannes Film Festival, OUTERWORLD was televised on the Sci-Fi Channel in the 90s under the title of STAR QUEST: BEYOND THE RISING MOON. Originally shot on film, this upgraded version of the movie has been digitally re-mastered, re-edited and tightened considerably. It has also been re-scored; re-mixed and has had 70% of its visual effects digitally enhanced. Several new scene embellishments and visual effects sequences have been added expanding the scale of this outer space adventure. Rated PG, OUTERWORLD contains no nudity, profanity, blood or monsters but rather features lots of chases, futuristic environments and space ship battles where a lot of things that blow up. OUTERWORLD is ready for its DVD debut worldwide.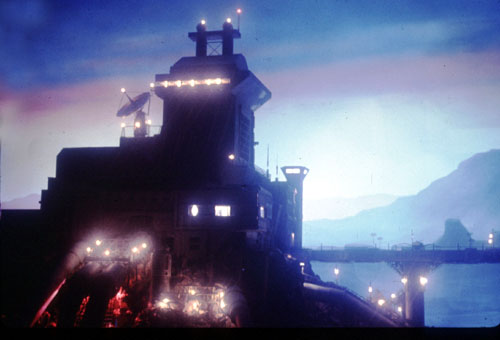 Midway through our adventure, Pentan and Brickman travel to Skyhouse, center of a massive terraforming operation on the planet Inisfree. There they race to meet Robert Thornton (Rick Foucheux) her genetic designer. Perhaps he can disarm the nanite bomb implanted in her head.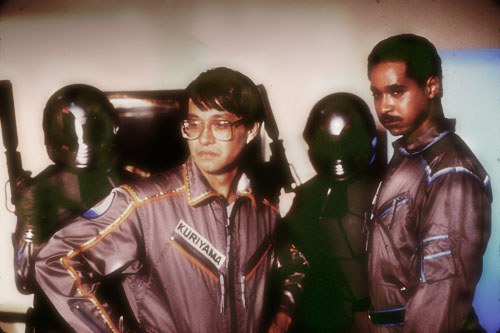 Takashi Kuriyama (Ron Ikejiri) and John Moesby (Michael Mack) lead the ruthless corporation, Kuriyama Enterprises, that designed and created Pentan. Now they race Pentan to claim the find of the century—the abandoned Tesseran spacecraft.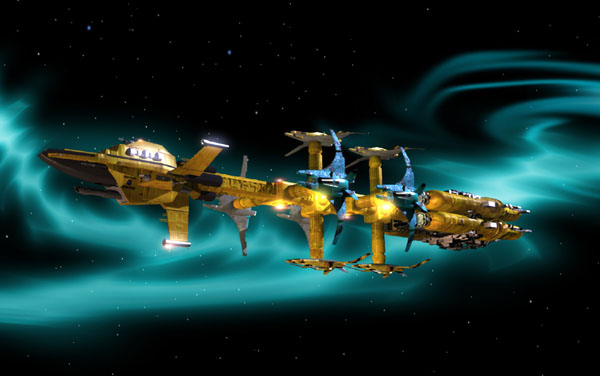 The Promethean was once a cargo ship; it's now Kuriyama's mobile platform that helps him enforce his business dealing in dangerous parts of the universe. Its shipping containers have been removed and it now bristles with state-of-the-art Tulwar fighters--deadly spacecraft that are at home in the air as well as space.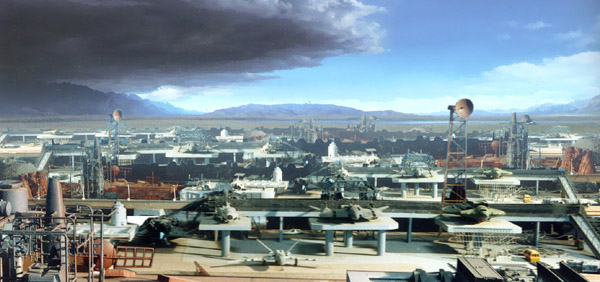 Star City North Africa. Vast plains of the desert now sprawl with a massive space complex that stretches to the horizon. Because of its position on the equator, it is now the gateway to commerce in far flung reaches of distant spaceports. It is here that Pentan recruits Brickman on there inter-solar adventure.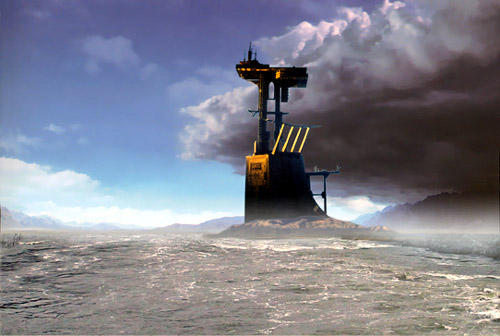 Kuriyama Corporate Headquarters is perched on the edge on the Timor Sea.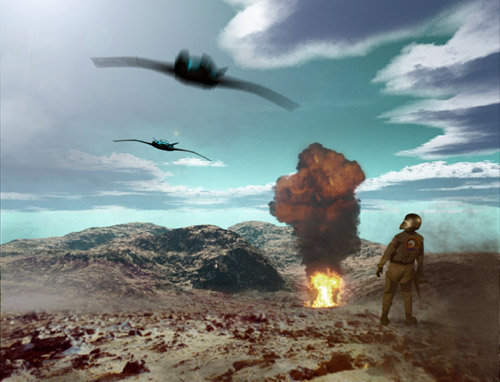 One of Kuriyama's storm troopers watch as his compatriots pursue Brickman's ship.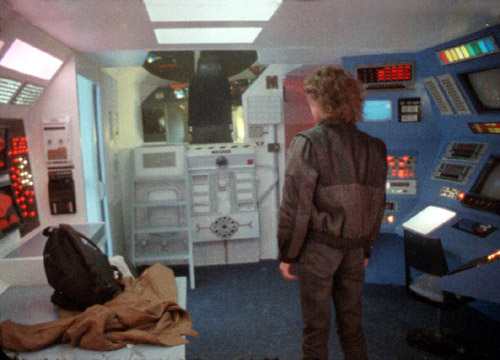 Pentan explores Brickman's ship for the first time.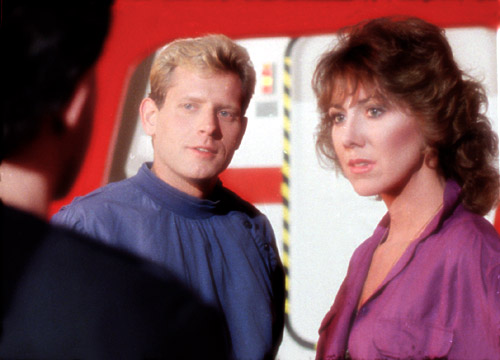 Brickman (Hans Bachmann) and Pentan (Tracy Davis) consult Thornton before embarking on their last leg of their adventure.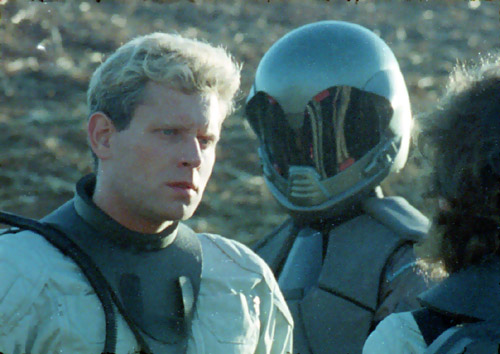 Brickman (Hans Bachmann) is captured on the planet Elysium by Kuriyama's troops.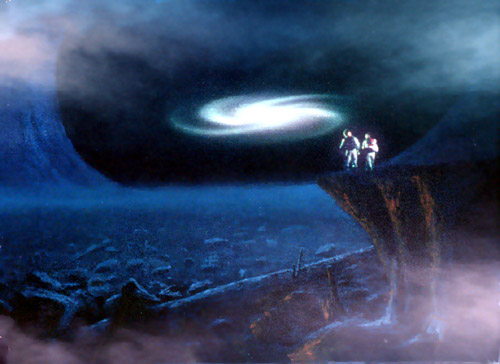 The interior of the abandoned Tesseran spacecraft defies the boundaries of time and space. The discovery of this enigmatic artifact touches of a race that spans three star systems and pits Pentan against her creators.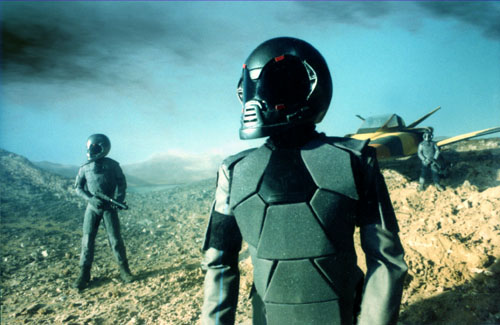 Kuriyama's storm troopers search for Pentan and Brickman on the planet Elysium.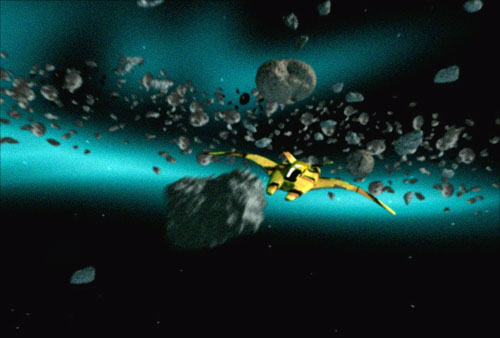 Tulwars hunt Pentan's ship within the tumbling asteriods of Elysium's rings.
WORLDWIDE RIGHTS AVAILABLE FOR OUTERWORLD
Contact Philip Cook:
Eagle Films
2806 Cameron Road
Falls Church, Virginia 22042
philcook@eaglefilms.com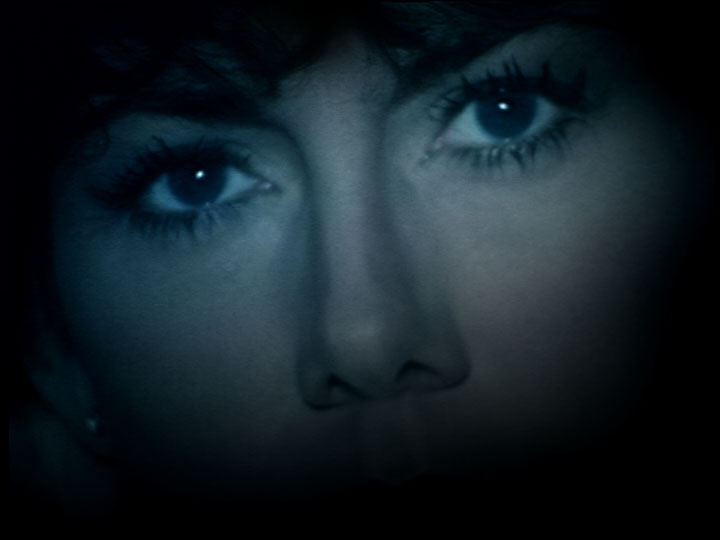 *OUTERWORLD was originally titled STAR QUEST.