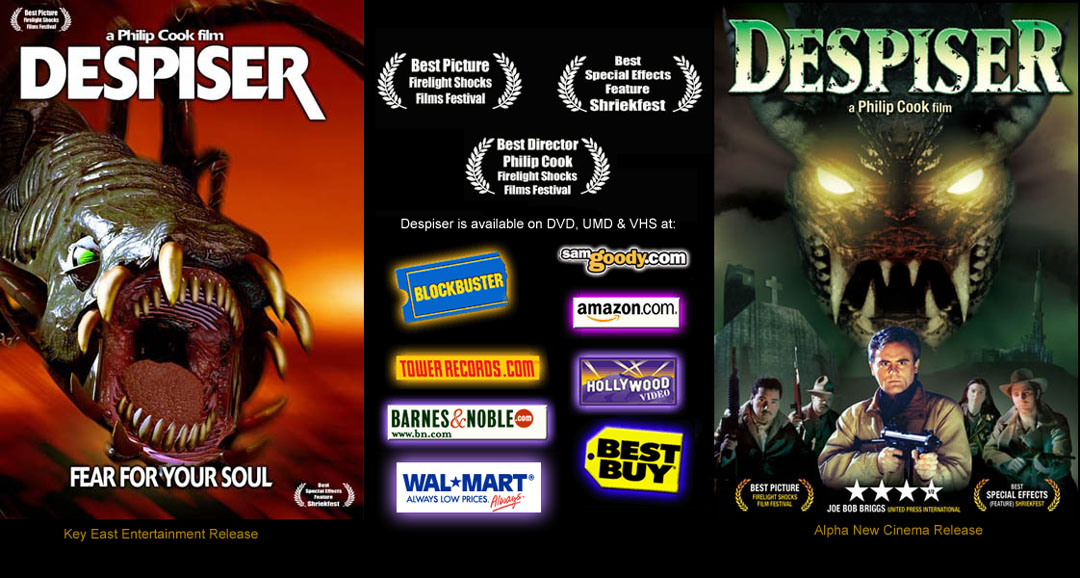 DESPISER Trailer
"Writer/director Cook … creates a world that's a vibrant cross between live action and stunning CG effects. Cook conjures a darkly magical landscape guaranteed to keep fantasy fans glued to the tube. Three stars."
VideoScope Magazine #46 - Spring 2003
"[Philip Cook's] "Despiser" is the tightly scripted tale of a washed-up, out-of-work artist ... making an unexpected visit to purgatory ... an excellent setup for lots of machine-gun battles, car crashes, fireballs, turreted-castle raids, and campfire dialogue about the meaning of the Apocalypse. "It's "The Beastmaster" as envisioned by Dante. I loved it. Three and a half stars."
Joe Bob Briggs - Drive-in Movie Critic
United Press International
"An awesome mix of creativity, technology, story and plot that will leave you breathless ... on the edge of hell!"
Count Gore De Vol
"An ordinary man is plunged into a world of demons, monsters, freedom fighters and lots of flashy CGI in Phil Cook's ambitious indie production." [DESPISER]
Fangoria Magazine
"Writer and director Philip J. Cook must have had an imagination overload when he conceived DESPISER. It's so positively unique and bizarre, what with its awe-inspiring sets and backdrops, not to mention the smooth merging between the numerous genre styles in the story and photography. This movie is part science fiction, a dab of horror, a pinch of fantasy, and a sprinkle of hardcore action with a touch of romance added for even more flavor. It never lets up either. From the first scene on, it just keeps offering more and more visual delights and plot twists, and all of them are presented in an intensely creative and passionate manner that leaves the viewer dazzled."
"That said, an accomplishment such as this one is worth noting because it's riding on the crest of a wave of the future."
Cult Cuts Magazine -- Review by Craig Hamann
"Despiser is a low-budget genre film that makes impressive use of computer animation for its fantasy sequences, placing the characters in videogame landscapes where superhuman heroics and supernatural possession seem entirely plausible. Gamers and fans of such thrillfests as Final Fantasy and Resident Evil will enjoy this one."
Video Business/Video Premiere
"[DESPISER] it's just extraordinary, a quite unique piece of independent cinema which is much more than just the effects show-reel that it could have been. There are elements of The Wizard of Oz in the story and obviously a certain amount of religious iconography, though this is not a preachy, evangelist fantasy. Despiser (which is called Philip Cook's Despiser on the DVD menu) is a labour of love but it's far from self-indulgent. It's proof that with current technology (current? - this was made three years ago!), nothing is beyond the reach of a dedicated, hard-working, imaginative independent film-maker."
MJSimpson.co.uk
"Just got my glad hands on a thoroughly unexpected movie! The movie is entitled: DESPISER, a Philip Cook film! Let me tellya folks I was truly impressed with the movie....DESPISER looks and feels like the most outrageous video game ever-ala TRON--with its slick incorporation of great computer effects with live actors, and sets. The editing is tight. Super tight. And way clever ta see! The dialogue is delightful, as the story is creative. Great action. Fun monsters. Good acting. 4 CZARS out 4 CZARS."
Channel 12, Fairfax Cable, T.V.'s Doctor Sarcofiguy
"Despiser is extremely ambitious visually, moreso than most effects-driven blockbusters with countless millions more at their disposal. The editing, directing, and particularly the cinematography are all first-rate."
"The "Making of Featurette" is actually the best of its kind I've seen in a rather long time, steering clear of the fluffy, insubstantial promotional pieces that litter most DVDs."
DVD Talk
"Despiser" is a timeless retelling of the classic story of how one man was able to enter the afterlife and do battle against the minions of three space dwellers who crashed into the depths of purgatory....
Film Threat
"There is undeniably a lot to enjoy in Despiser. It's an ambitious project … Given its budget, it achieves much… I'd like to see what Phil Cook could do with some Hollywood resources or even some decent indie financial backing. If the movie-making gods were just, they'd funnel all the money that's being spent on the Tomb Raider sequel into Phil Cook's next project."
Revolution Science Fiction
"What DESPISER lacks in budget it makes up for with imagination ... I can honestly say I have never seen anything quite like this ... an ambitious production on what is obviously a very low budget. I think every low-budget filmmaker should have a look at this movie. DESPISER is decent flick with an original plot that actually employs some imagination without constantly relying on clichés and that is something that is sorely lacking in most low budget direct-to-video movies these days. The visual look of the movie ... won me over. It's almost like a video game only with actual human characters. I'm curious as to what Philip J. Cook will make next and it will be interesting to see what he could come up with if given a significantly larger budget. This is definitely a filmmaker to keep an eye on."
Creature-corner.com
By Scott Foy
"...if this film had a mega million dollar budget and some star power it would make one hell of a Hollywood flick. I say rent it for the experience of what one man can do with a small budget and a big script."
Horror Bob -- Horrorseek.com
"DESPISER is as grand and cinematic as anything I've seen from Hollywood and outclasses other micro-budget films by a mile. The story moves along at such a brisk pace, charged all the while with real emotion, that viewers quickly forget about any distractions and accept the cartoon-like nature of Purgatory for what it is. Unlike most micro-budget moviemakers who rely on the talk-is-cheap method so dominate in independent cinema, Cook keeps his action ramped up on "high." The story moves cinematically in that there's little extraneous exposition. With DESPISER, Cook keeps the action fast and nowhere is the dialogue pointless."
b-independent.com
on-line cult-entertainment
"This is a neat little independent film, produced with barely a budget … but the creativity of the filmmakers and cast shines through, and I found this to be quite enjoyable once I accepted the appearance of the effects. Giving the film's style the same suspension of disbelief you give to its fantastic storyline will result in an enjoyable experience."
Cinescape -- Randall D. Larson
I'm convinced that if "Despiser" had had a Hollywood budget, it would have been a hit. ...the two lead actors are quite good, especially Doug Brown (doing a good Samuel L. Jackson impression) as Carl, the man in charge of the purgatory posse. In a just world, this man would be huge. If you watch this for no other reason, watch it for him, particularly in the second half. … this film has so much heart and imagination and is so damn much fun that, if you're able to see it as it was intended, I enthusiastically recommend it. I rented it, but this will be an easy purchase for me. Think of "Mad Max" as interpreted by Stephen King. Not the scary SK, but the quirky dialogue-driven one.
Horrorwatch.com

Click here to play the trailer or buy the DVD!

DESPISER
Production Information
Having just been fired and dumped by his wife MAGGIE (Gage Sheridan), life couldn't possibly be worse for independent artist GORDON HAUGE (Mark Redfield)—until he wrecks his car and finds himself in purgatory, that is. Once there, he is attacked by fanatic SHADOWMEN (Dan Poole, Richard Dorton & Mark Hyde) and legions of Ragmen—souls enslaved and bent on some dark purpose.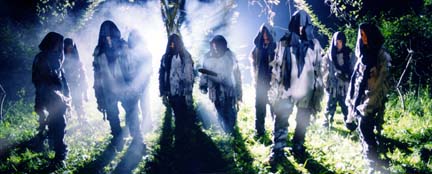 Gordon is rescued by a band of eccentric freedom fighters (Doug Brown, Frank Smith, Michael Weitz & Tara Bilkins), people from different periods of history who had lost their own lives in noble sacrifice.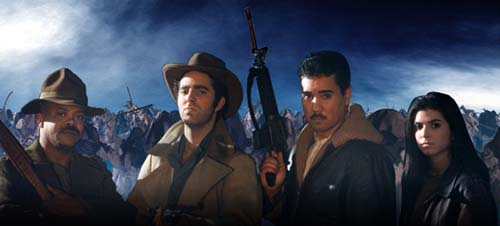 They recruit the reluctant and befuddled Gordon and set off on a wild adventure through the surreal landscapes of purgatory to battle the Despiser—an evil being who now reigns in this (seemingly) God-abandoned halfway house north of hell and south of heaven. Surviving annoying monsters, armies of Ragman and hair-raising car chases across bridges spanning lava, our heroes battle their way to the dark macabre fortress of the Despiser.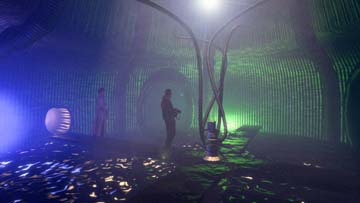 Writer director Philip Cook describes DESPISER as a dark version of the WIZARD OF OZ. But instead of Dorothy encountering the Tin Man, Scarecrow and Lion, Gordon Hauge teams up with his own band of would-be-heroes and travels the treacherous road to the Despiser's fortress. His quest becomes a journey of self-discovery in the face of celestial conflicts.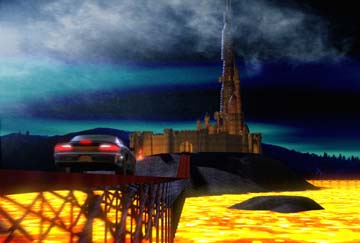 Virginia-based Eagle Films produced DESPISER on a modest budget (by Hollywood standards) with all local talent. Yet despite its cost, the picture has scope, scale and visual majesty. It features numerous stark sets and uses hundreds of digital effects to convey this wild adventure through the dusky realms of a fantasy artist's version of purgatory.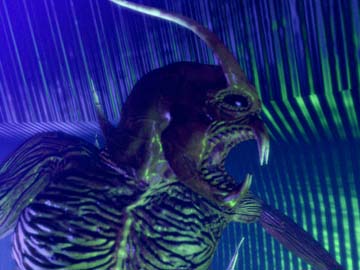 DESPISER (aka THE ROAD) had its world premiere at Visions Theater in Washington D.C., May 4, 2002. It runs an hour and forty-five minutes and is rated R for violence.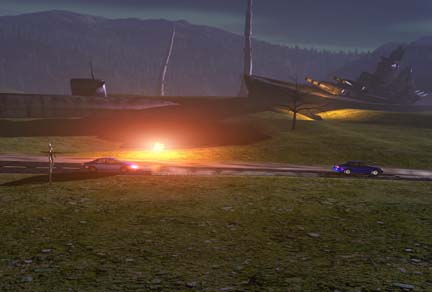 DESPISER has had a long journey to the screen. Written by Philip Cook thirteen years ago, the story was designed around iconic elements of fantasy harkening back to such classics as THE WIZARD OF OZ and LORD OF THE RINGS. In 1989, DESPISER was the story of a struggling young painter in a new marriage, trying to be taken seriously as an artist. Then his life hits the fan, he wrecks his car and he ends up as some sort of messiah in purgatory. "As time went by, both Gordon and I got a little older," comments Cook. "After thirteen years of trying to get the picture financed, I finally figured out a way to bring this story to the screen. So now DESPISER is the story of an artist coming to grips with disappointment after many years of beating his head against the canvas—something anybody who hits forty can identify with. Then, to top it off, he wrecks his car and ends up in purgatory." From this point on, DESPISER's all rollercoaster—one that plays with Gordon's perception of what is real, or dangerous, or merely a hallucination. He starts out a bit of a loser and by the end, has figured out a way to regain control of his life—and the predicament God dropped in his lap.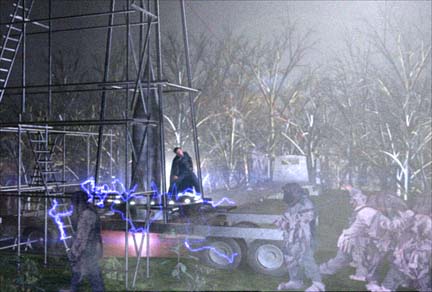 ABOUT PURGATORY
Director Philip Cook was intrigued by the idea of an alternative world like ours, recognizable but skewed, dark and ominous—a blend of our culture mixed with macabre fantasy. This concept became the purgatory, a place where, after death, one's soul is purified of sin—by suffering. But in this story, something has gone terribly wrong with it. It's no longer a clearinghouse for confused souls; it's become bottlenecked, out of balance and fraught with conflict. And so our story begins.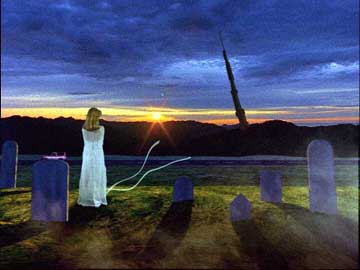 Purgatory, as designed in DESPISER, is actually quite beautiful in a haunting sort of way. The sun never shines, the sky is always in perpetual twilight (or magic hour), and mystery lurks in every shadow. Bonfires liter the cold landscape. The architecture is an eclectic collection of contemporary buildings intermixed with enigmatic towers that point like dead fingers towards heaven.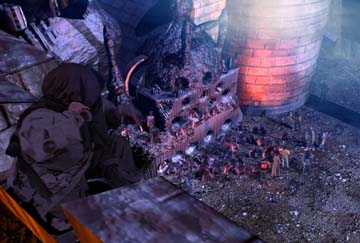 In purgatory, you could be driving down a desolate road one moment and then turn the corner to discover a grove of petrified crucified souls. Travel a little further and find yourself driving through the mist-enshrouded wrecks of land-locked battleships and submarines. Venture further still and traverse precarious bridges spanning wide expanses of lava. And at the end of this road lies the destination of our heroes' quest—a dark foreboding fortress surrounded by a graveyard of nuclear missiles.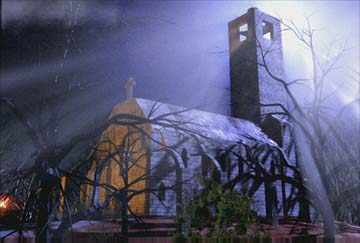 Purgatory's inhabitants are from different historical periods and break into two factions. Heroic sacrificers-war heroes, doomed firefighters and plain old responsible citizens who gave up their lives trying to save someone else are the freedom fighters of this spiritual waystation. Then there are the Ragmen, people who have given in to despair and are exploited by the evil presence that has taken up shop and is gumming up the works.
Because of DESPISER's ever-changing landscape, the characters need to react fast and be mobile. Hence come cars—fast ones—to travel the surreal roads, and, of course, car chases. Because of the "anything goes" environment and the liberating effects of computer imagery, there were no limits to what chases, crashes and stunts could be staged. As a result, the movie has some very intense action scenes with impossibly visceral, dangerous, and dynamic camera moves. Some of these vehicles perform tumble and crash maneuvers at over 150 miles-per-hour that would cause any stunt driver to have second thoughts.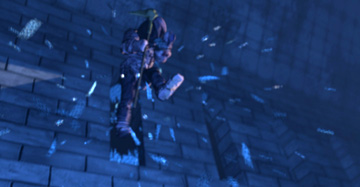 "This is a very cutty film," comments Cook, who also served as DESPISER's editor and cinematographer. "The camera is as much a player in the action as the characters and settings. It goes from a mile-wide long shot and rushes to an extreme close-up of an actor's face—all in one shot. It's always on the move, immersing the audience in the action."
ABOUT THE FILMMAKER
Producer, director, writer PHILIP COOK started out as a cinematographer for the animation company Broadcast Arts—whose great claim to fame was producing PEE WEE'S PLAYHOUSE. At twenty-four, Cook went on to write and direct his first feature, STAR QUEST, which aired on the Sci-Fi Channel. He then wrote and directed INVADER, which aired on HBO, Showtime and Cinemax. He has produced countless political campaign commercials and high-end corporate image pieces for leading telecomm companies. He owns Eagle Films, a production and visual effect company. He is currently in pre-production on the rousing prequel to DESPISER set in 4th century Britain.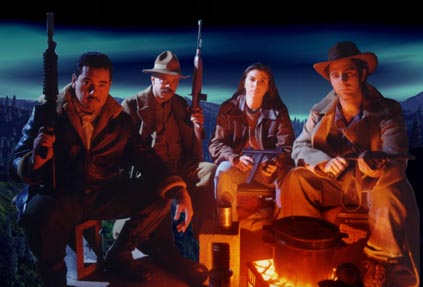 ABOUT THE CAST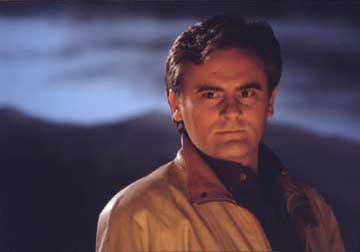 MARK REDFIELD (Gordon) has starred in such independent features as DOCTOR JEKYLL & MR. HYDE, TORIES & REBELS (National Telly Award winner), IN THE GRIP OF EVIL (for Discovery) and COLD HARBOR. During his career he has acted in over seventy plays. He was picked as "Best Actor" by the Baltimore City Paper (1996) for his work as Santa in Action Theater's I Was A Reindeer for the CIA, and Jack Toney in the Bowman Ensemble's Go Comedy!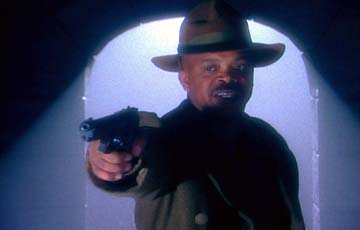 DOUG BROWN (Nimbus) is a respected Washington stage actor with three Helen Hayes Award nominations. He has performed most recently at Washington D.C.'s prestigious Woolly Mammoth Theatre and many times at The American Film Institute's Kennedy Center Theater.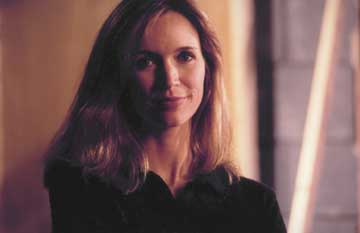 GAGE SHERIDAN aka Gage Sheridan (Maggie) has starred in the independent feature films MORAL CODE, SHE'S TOO TALL and TWILIGHT OF THE DOGS.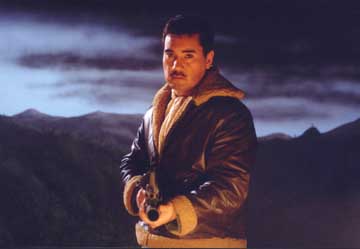 FRANK SMITH (Tomasawa) makes his acting debut in DESPISER. Frank has been a cop in real life and a sales executive for Bio Labs. His Japanese descent and love of Kurasawa films made him the perfect choice for the role of the stoic, noble Kamikaze pilot Fumie.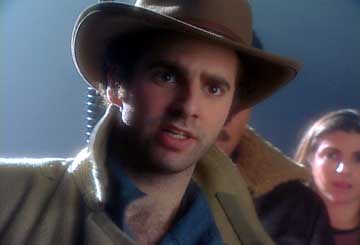 MICHAEL WEITZ (Jake) is a New York stage actor whose productions have toured extensively throughout America. Recent work includes national tours of TO KILL A MOCKINGBIRD; GREAT SCIENTISTS THROUGH THE AGES for the National Theatre of Performing Arts; Dandelion Productions of JAMAICA at the Paul Robeson Theatre; SCATTERED, COVERED, & SMOTHERED for Shalimar Productions; and FRENZY FOR TWO OR MORE (2001 New York City Ionesco Festival) for Spring TheatreWorks.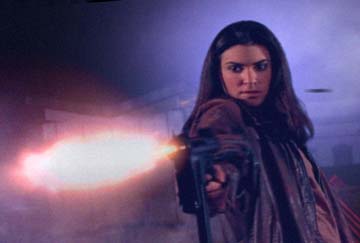 TARA BILKINS (Charlie Roadtrap) has had extensive theatrical experience in numerous Baltimore stage productions. DESPISER represents her screen debut.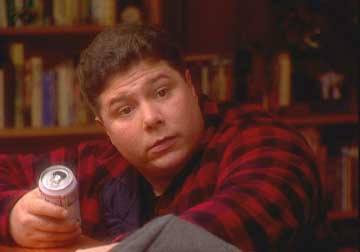 MIKE "DIESEL" CUCCHERINI (Norman) has been touring the nation as a stand-up comic for over 14 years and has appeared on Comedy Central's Stand-Up. He's been featured in a variety of regional commercials and recently finished a DVD ROM game called Ambient Light, in which Mike plays a Russian Narcotics officer. He's just finished a voiceover for the Baltimore Zoo, as well as advertisements for Black Diamond Powder, which ran all over the south and mid-west. In addition to everything else, Mike also finds time to run Wise Acres, a comedy club located just outside of Washington D.C.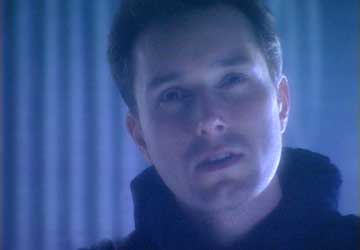 MARK HYDE (The Last Shadowman) had two roles in DESPISER. In life he was the despondent suicidal banker "Jeff the Jumper" who pulls Maggie (Gage Sheridan) to her doom. In death he becomes the last incarnation of the Shadowman that Gordon must confront. Before Mark Hyde became an actor, he was a member of one of the Navy's elite SEAL teams. After years of real-world adventuring, he turned to the equally challenging career of acting. Most recently he has been seen in JAG, Alias, America's Most Wanted and Push Nevada. Mark also served as combat supervisor on DESPISER and supervised all the on-location sound recording for the film.
DESPISER TELEVISION SERIES
The future of DESPISER doesn't stop with a single feature. The concept is very intriguing and could be pursued much further. It's a fascinating world that opens up numerous story opportunities. One possibility would be a miniseries. Each segment could explore a different level of purgatory, defined in many ways by the perspective of its inhabitants. And just think of the fascinating characters who could slip in from times past. Some might still have axes to grind, or others may be trying to make amends for the sins of their past life. It could dramatically and visually be quite captivating and original, an adventure with something to say about heroism, sacrifice, fanaticism and sin—all wrapped in wild visually exciting adventure with international appeal.
Contact:
Eagle Films
2806 Cameron Road
Falls Church, Virginia 22042
philcook@eaglefilms.com