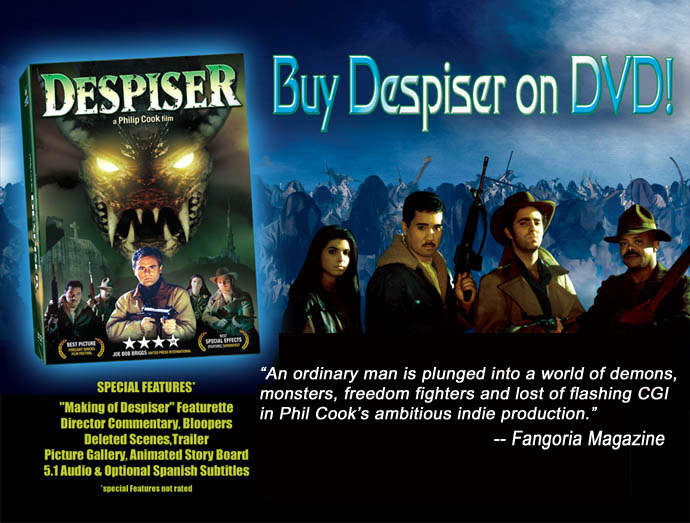 The DVD includes a "Making of Despiser" featurette, revealing many of the secrets behind this visually amazing independent production as well a director's commentary. Also included are production stills, storyboard to final scene comparison, bloopers and interactive menus. If you're a genre fan, independent filmmaker, avid CG animator, EFX afficionado or just enjoy a good tale, DESPISER is a handsome release full of many hours of entertainment and how-tos.
Despiser DVD $10.00 lowest price anywhere! Factory sealed! Despiser VHS $5.00 lowest price anywhere!
The one required stop on this DVD is the "making of" featurette. Aside from the fact that it's better edited and more professionally produced than a lot of those "making of"s, it's also a good look at Phil Cook's own brand of low-budget film-making. I defy you not to admire Phil for his sheer willpower and imagination.

Revolution Science Fiction
The "Making of Featurette" (15:35) is actually the best of its kind I've seen in a rather long time, steering clear of the fluffy, insubstantial promotional pieces that litter most DVDs. The featurette follows the progress of the project from concept to completion, and pretty much everyone that was in front of or behind the camera is given a chance to speak about the experience.

DVD Talk
Despiser DVD is $6 plus $5.00 shipping and handling.
Despiser VHS is $15 plus $5.00 shipping and handling.
All are factory sealed!
Contact Philip Cook at:
pixelpusher2001@yahoo.com
for payment options.
Allow approximately one week for delivery.